this week's evintage blog tag came just in time.
evintage asks:
1)We know Carrie favors vintage, to kick it off, show us a piece you think the quirky, eclectic and whimsical Carrie (Sarah Jessica Parker) would look great in from your inventory.
I just sold this Delightful Novelty Print POP Guy Laroche Dress that I can absolutely see on Carrie.
Here's the detail of the print
2)Samantha (Kim Cattrall) works the vampy edge of fashion…what do you have in your inventory that can bring out the temptress in a woman?
Kim has a model's body, she can wear a potato sack and still look gorgeous, I can totally see Kim wearing this Ungaro
or this sexy Sonia Rykiel
3)Miranda (Cynthia Nixon) tends to play it safe, tending toward clean lines and classic silhouettes with the occasional sexy edge. What do you have in your inventory for her?
I can see Cynthia wearing this little black LAUNDRY dress.
ONLY $29.99 at figure8studio.com
4)Charlotte (Kristin Davis) is often seen in more feminine, flirty and girlie pieces. What vintage dress or ensemble do you have that would work for her character?
Im prepping to list this cool and stylish paisley 60s dress
5) Sex and the City Shoes. Stilettos? Of course! If you've got some vintage shoes to rival Carrie's Jimmy Choos, show 'em off here!
although more of a fall/winter shoe I love these Bruno Maglis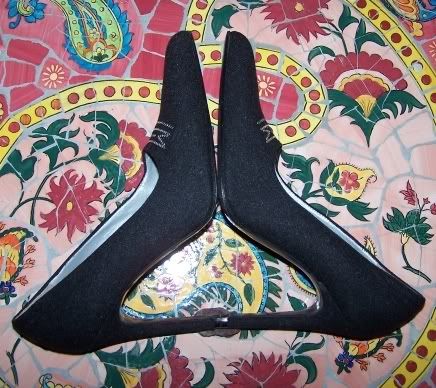 6)Love the show? Hate the show? Never seen it? Do tell. No spoilers if you've seen the movie!
Love it! We are having our girls night out tomorrow, dinner with Cosmos (of course!) and Sex And The City! Cant wait!
6/6/08 What a fantastic movie! The four of us made it to the restaurant by the AMC Loews Theater just in time to have our first round of Cosmos, we toasted and made it in as the previews were running.
About the movie, I wont give up any secrets, we laughed and laughed and there were a couple of tears too, loved loved loved the fashions! But I have to say that I do not remember Samantha looking as tacky as the movie made her look in the Showtime series, was that just me?
Anyway, we cant wait till the movie comes out on DVD so we can play it over and over again, like an old friend.
I was tagged by
Life of a Jersey Girl
figure8studio tags
Pin-up Glam to Groovy Kitsch