The theme of this week's Vintage or Bust Tag blog is Candy
Tagged by
Life of a Jersey Girl
1)The colors of CANDY! What's your favorite candy colored vintage piece in your collection?
My favorite is this vintage Adele Simpson Wrap Dress from I Magnin

2)What's the sweetest accessory you're offering right now or from your private collection?
This 70s Cole beach swimsuit cover up!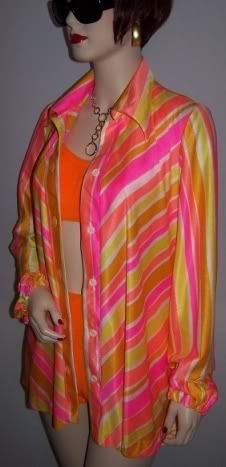 from fellow vintage seller chichichambers at Babylon Mall this yummy necklace:
3) Sweet tooth? What's your favorite candy?
Cherry Blow Pops
4)Ice cream…..chocolate or strawberry, and why?
chocolate, because it makes the world go round :)
5) "Charlie and the Chocolate Factory", classic film or Johnny Depp re-make….and why?
Depp's remake was cool but I usually opt for the classics.
5)Is your personal style sweet or salty?
Salty goth with sprinkles of hippie sweetness :)
Always great vintage from eVintage members.
evintagesociety
figure8studio tags
Pin-up Glam to Groovy Kitsch