Steampunk:

Victorian Sci Fi. Anything that involves ingenuity and creativity without further waste. That which redefines time should be celebrated and deserves thoughtful consideration.

Jules Verne. H. G. Wells's The Time Machine. Art Nouveau. Whimsical fantasy. Victorian England. Romanced technology coming alive with a heartbeat and misapplied technology.

There are no hard and fast rules for Steampunk style, its why it is possible for British adventurers, sky pirates, neo Victorianas, mad scientists to exist under the same moniker.

Militaria, top hats, industrial Gothic leathers, corduroys or 'cords' as we call them in the States, velvets, browns, antique black or lightly touched with antique white laces, any color can be steampunked with perhaps the exception of neons. Gogles, monocles, skeleton keys.

Even Tiffany jumped on the bandwagon

Goes to show you how powerful this movement has become.




...Marching band jackets paired off with Victorian skirts, riding boots, docs (as in Martens)...

Oscillating antique fans lull me to dreamland...


My favorite aspect of the steampunk movement is how it combines technology with sustainability and DIY aesthetics

A Steam Powered Ipod Charger



from:

steampunkworkshop

In my Cañones cigar/jewelry box you'll find 80s earrings from recycled watch parts.

An example of colors used in steampunk. Designer Nikki Fizer




In my store:

30s BLACK LACE DRESS




Victorian Style Dress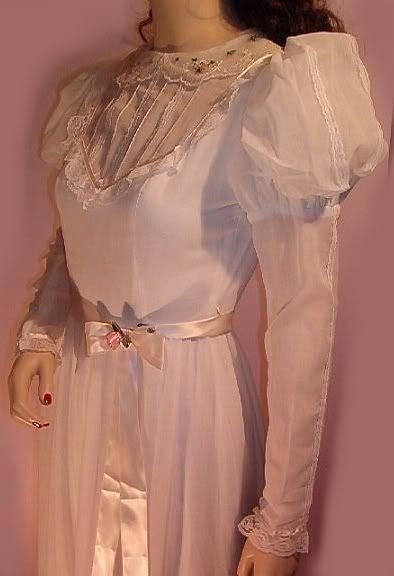 Victorian Inspired Dress




Other fine offerings:

Suzy Creamcheese Velvet Edwardian Style Suit - magsrags




Armani Vintage Jacket on etsy = sold.




Gloves on etsy - sold.




rogueretro hat on etsy




The possibilities are endless.

All you need is imagination.

hmm...all this talk about steampunk reminds me Im overdue for a visit to one of my favorite parks in the Emerald City; Gas Works Park




fssss...